The Grand Ole Opry is celebrating nearly 100 years of history and surprise performances.
Dan Rogers, vice president and executive producer of the Grand Ole Opry, spoke to Fox News Digital about what makes the Opry so special and revealed some of his favorite moments.
"I'll tell you, I think one of the most surreal moments for me, and I was fortunate to know it was happening — I can't imagine what I would have thought had I been sitting in the audience — is Garth Brooks and Trisha Yearwood made a surprise appearance walk on stage," he recalled. "And, of course, the crowd is going to go nuts any time Garth Brooks and Trisha Yearwood appear.
"But as the night proceeded and the moment proceeded, it was discovered by the audience that they weren't there to sing. They were there to introduce former President Jimmy Carter and his wife, Rosalynn," he added.
"And so it was just this amazing moment where two of country music's icons introduced two of the most important people in, you know, in American culture over the past 50 years. And, again, it was all … that was all happening on this stage, which is the most famous stage in country."
Brooks and Yearwood aren't the only artists to surprise audiences at the Opry House, otherwise known as "the undisputed home of country music."
Rogers explained other beloved country music artists, such as Carrie Underwood and Brad Paisley have also surprised fans with performances.
While Rogers loves when country music's biggest stars take the Opry stage, what he enjoys more is when "someone you wouldn't necessarily expect to see at the Opry any time" comes out as a surprise guest.
"It helps you realize how broad the appeal of the Opry is and also how broad the appeal of country music is," he said.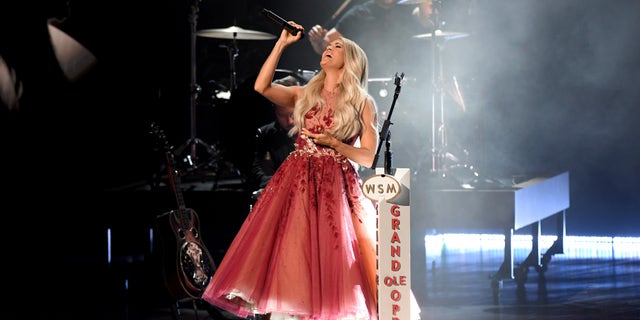 "I think of nights like [when] Brad Paisley invited John Fogerty to appear, and the crowd just kind of was looking at each other like, 'How is this even possible that we're hearing these songs we've grown up singing and hearing on the radio, hearing everywhere. We're hearing them sung by a guy who made them popular on perhaps the most famous stage and in country music,'" Rogers explained.
The Opry's newest exhibit, "Famous Friends: Guests of the Grand Ole Opry," pays tribute to the many artists from various musical genres who have performed there, including multi-genre Hall of Farmer Ray Charles, Gwen Stefani and comedian Leslie Jordan.
Rogers pointed out one of the most famous faces to take the Opry stage was Elvis Presley, who played the Opry at the Ryman Auditorium. He noted Presley later returned to the Opry as an audience member, saying he always enjoys when big stars visit the Opry House as a member of the audience.
"It's just fun to see them backstage," Rogers said. "One of the most memorable moments or nights of my life at the Opry was when the great Rita Wilson came and played the Opry, which she's done several times. But on one of those occasions, her husband [Tom Hanks], who just happened to be an Academy Award winner, came to watch her. It was really fun to watch him watch the Grand Ole Opry."
Rogers thinks what makes the Opry special is the "incredible connection that fans have with the opera and its artists." Not only that, but also "the connection that artists have with each other," explaining he loves watching younger artists meet their heroes backstage.
One of the best parts of the job for Rogers is watching artists be "surprised with an invitation to become an opera member," saying it's always nice to watch someone achieve "the culmination of a lifelong dream."