Carrie Underwood took to Instagram on Sunday to share a sizzling new poolside photo as she relaxed en route to her Vegas show. The 'Jesus Take the Wheel' may have performed in Oregon the night before, but that couldn't stop her from taking the opportunity to soak up the sun in her bikini looking as flawless as ever.
The country music star's bright green bikini featured a halter neck top with some small gold details but was otherwise kept simple while accentuating the 40-year-old's gorgeous curves. Carrie also accessorized with several gold rings and a pair of gold tinted sunglasses whose reflective coating helped reveal more of her tropical looking poolside rest spot.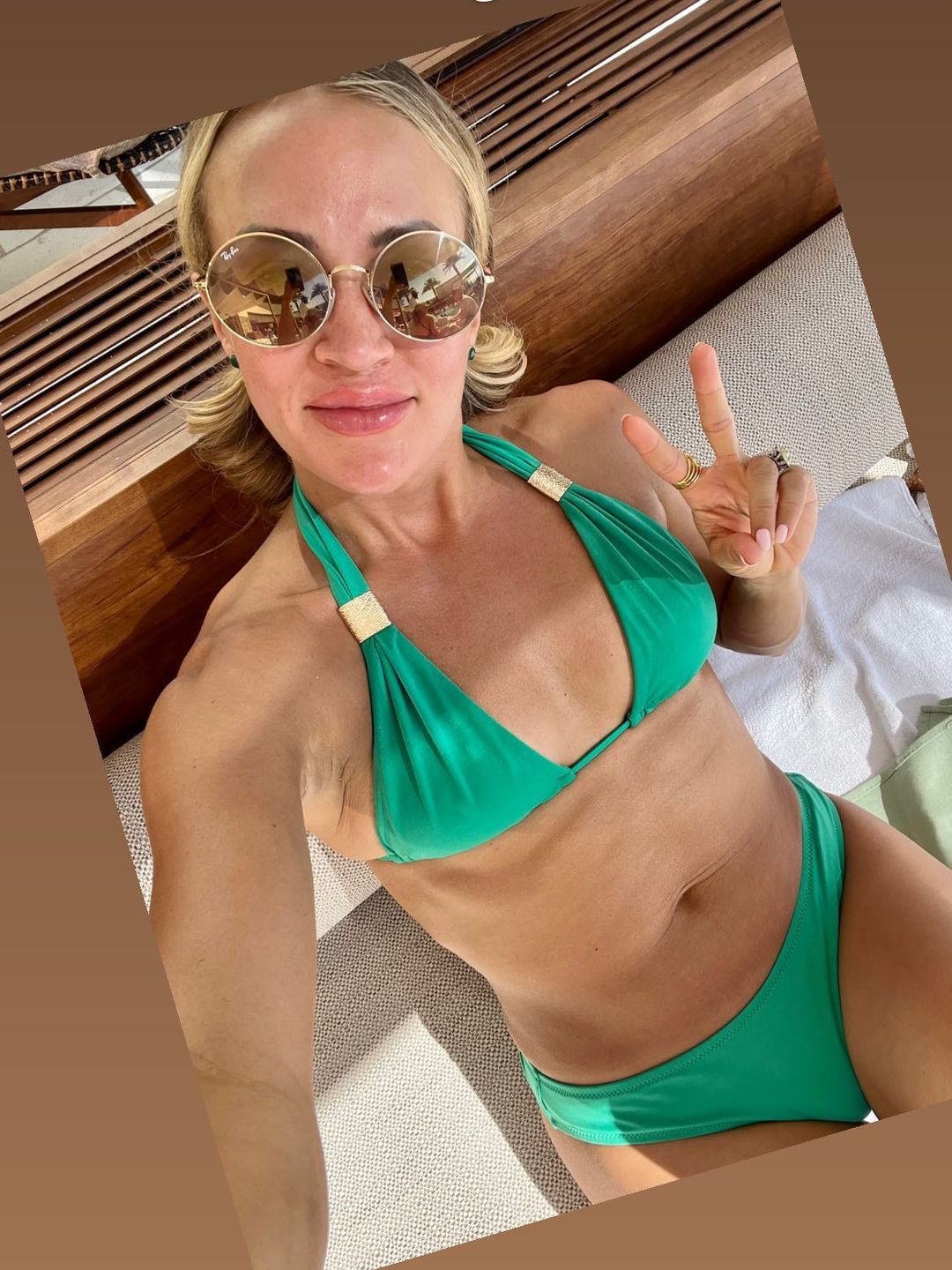 Meanwhile the Denim & Rhinestones album artist captioned her photo with a relieved: "Finally… sunshine!" before adding: "Haven't seen the [sun] in 6 days… feels good!" Carrie has been very busy of late as in just the last fortnight alone she has gone from hosting a special fan event and concert at the Grand Ole Opry in Nashville on Tuesday June 6 to launching her very own radio channel on Sunday June 11, plus found time to release lots of new music from the deluxe edition of her most recent album along the way.
The Oklahoma-born singer now appears to be on her way back towards Nevada to recommence her Vegas residency, but not before she took to the stage on Saturday night as part of the line up for Rogue Music Fest. "We had such a blast @rmusicfest last night!" Carrie wrote on her Instagram, presumably while she relaxed on Sunday. "The crowd was giving the BEST energy," she complimented before adding: "Thank you for having us! I hope we get to come back someday soon!!!"
View this post on Instagram

Fans were certainly very grateful that Carrie took the time to appear at the festival while travelling to Vegas. "Thanks for adding Central Point, Oregon to your tour schedule!" one wrote. "I'm sure you lifted the spirits of all the folks from my home town area," they said, before adding sweetly: "Carrie, you are a blessing."
Another revealed: "We couldn't come to the concert, but live in the neighborhood next to the venue, so we enjoyed your music all night on the back porch!" Those lucky enough to have been at the concert were all super complimentary, with some calling it the best show of the weekend and others creating a chorus of comments on what an "incredible" "amazing" and "fantastic" set it was.
Finally, another echoed many's opinions on looking back at Carrie's very busy week by simply writing: "Hardest working woman in the biz!" For certain, the American Idol pop star was due her day of rest this Sunday ahead of her return to her 'Reflection' Vegas show on June 21 which is due to run into December!