Carrie Underwood is happily married to her husband Mike Fisher – but he's not the only person who showered her with love on Valentine's Day.
The country music singer, who recently revealed a jaw-dropping addition to her 400-acre family home, was overcome with emotion when she was given two adorable hand-made cards by her sons, Isaiah, seven, and Jacob, four, to mark the romantic day, and she proudly showed off their handiwork on Instagram.
Taking to her Story, Carrie posted a photo of Isaiah's heart-shaped, multi-colored card, which she captioned: "From my lil' Valentines," alongside three red heart emojis.
Inside the card, Isaiah had written the sweetest message, which read: "Dear Mom, you work so hard all the time, you are so loving when I am sick. I hope you have a happy Valentine's Day! Love, Isaiah."
Jacob's card had the black outline of a heart drawn in the center with gold and pink pieces of tissue paper glued in the middle of it. Written on the card were the words: "I love you TO PIECES."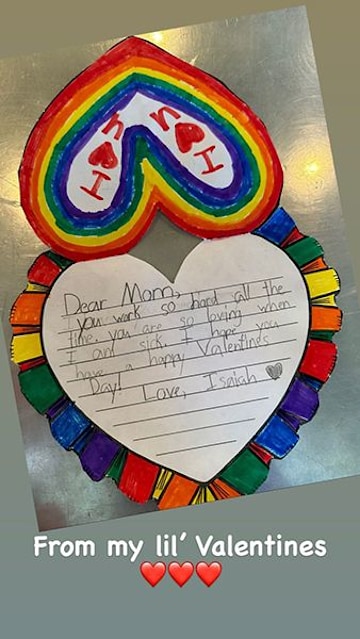 Carrie and Mike recently expanded their family and welcomed a rescue dog named Charlotte. Taking to Instagram, Carrie shared adorable snaps of the pup, writing: "Meet Charlotte 'Charlie' Nilla Fisher…newest member of the family!"
She continued: "I met her in Charlotte when the lovely people at @pincdogrescue brought some puppies to the venue to make us all smile. We had been looking for the right pup for our family for a while and she seemed just too good to be true!

"She is happy at home playing with her boys…and Penny and Zero have responded well and are getting to know their new sister…Thank you, Pawsitive Impact NC Dog Rescue for all the incredible work you do and thanks for bringing this sweet girl into our lives!" she wrote, before adding the hashtags: " #rescue #adopt #shelterdog #PuppyLove."