Carrie Underwood never puts a foot wrong when it comes to fashion and made sure all eyes were on her during her Detroit concert on Sunday night.
The country singer is traveling the United States on her Diamonds and Rhinestones tour, and pulled out all the stops for her latest show.
The mother-of-two rocked a metallic mini dress teamed with thigh-high boots as one of her many looks on the night, and shared photos from the show-stopping event on social media.
"Detroit was lit tonight! Thanks for coming out to party on a SUNDAY!!! I'll be flying high from this show for a while!" she wrote in the caption.
Fans were quick to comment on Carrie's outfits, with one writing: "Carrie you look amazing!" while another wrote: "What a look!" A third added: "You should perform at the Super Bowl!"
Carrie has been enjoying traveling the country on her tour so far, but is understandably missing home too.
View this post on Instagram

The award-winning singer is married to husband Mike Fisher, and the pair share two young sons, Isaiah, eight, and Jacob, four.
Away from the limelight, she says she's just a regular parent. "When I'm home, I'm mom – making lunches," she told TV host Lorraine Kelly while in the UK in 2022.
Although, she's the first to say that life on the road is a little less challenging than being at home too. "It's easier to maintain a routine when I am on tour," she explained.
"I don't have a house to clean, I don't have kids to cook for because there is catering and room service."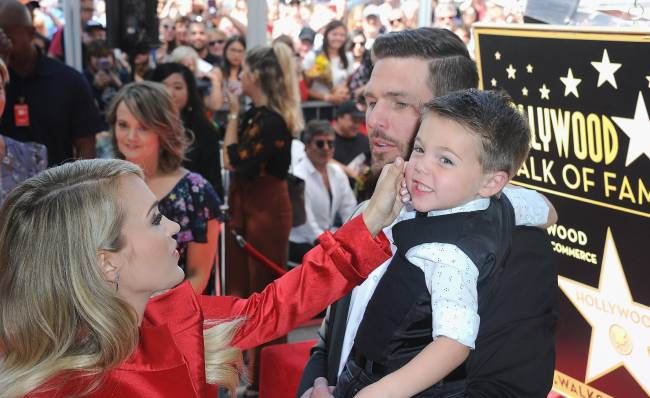 What's more, Carrie and Mike recently expanded their family and welcomed a rescue dog named Charlotte.
Taking to Instagram, Carrie shared adorable snaps of the pup, writing: "Meet Charlotte 'Charlie' Nilla Fisher…newest member of the family!"
She continued: "I met her in Charlotte when the lovely people at @pincdogrescue brought some puppies to the venue to make us all smile. We had been looking for the right pup for our family for a while and she seemed just too good to be true!
"She is happy at home playing with her boys…and Penny and Zero have responded well and are getting to know their new sister…Thank you, Pawsitive Impact NC Dog Rescue for all the incredible work you do and thanks for bringing this sweet girl into our lives!" she wrote, before adding the hashtags: " #rescue #adopt #shelterdog #PuppyLove."
Support our job
By clicking the advertisements you help us to maintain this page. We are thankful to you for reading our news and for helping grow this page.