Back in the summer of 2019, people were obsessed with a photo filter that made them look much older. The appropriately named "old" filter was available on the app FaceApp, and people applied it to their current photos to get an idea of what they'd look like years down the road.
Of course, celebrities jumped in on this trend as well, including country singers. One of the best photos to come out of the trend was shared by Carrie Underwood.
Carrie transformed a photo she and her husband, Mike Fisher, took together at the CMT Music Awards in June 2019. The below image shows a side-by-side comparison of the original snapshot vs. the one Carrie edited with the old filter.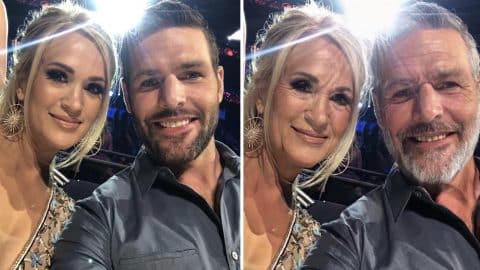 Fans were impressed to see how well Carrie and Mike aged when the old filter was applied to them. One fan asked, "But like, will y'all be my grandparents?"
Fast forward to today, and "old" filters are still a thing. There's such a filter on TikTok, and Carrie knew she had to test it out.
However, although Carrie seemed indifferent about how FaceApp's old filter made her appear, it was obvious she was not pleased with how TikTok's filter looked.
First, Carrie flipped the camera to Mike, who was seated next to her. Although the filter made his hair and beard gray, he didn't look all that different!
"Mike, pretty much looks the same," Carrie said before turning the camera to face her.
"Then there's that," she said with a laugh as she saw herself with long, white hair and wrinkled skin. Admittedly, the filter makes her look much older than her current self, whereas you don't notice much of a change on Mike.
She kept laughing as she asked, "What does this mean?"
Her caption was hilarious too. She wrote, "This filter hates women. No no no no no."
Fans have been quite amused by the clip, and it's generated over 1.1 million views since Carrie posted it. Check it out below for a good chuckle!
View this post on Instagram