Carrie Underwood wowed fans on Thursday by making a special announcement about new music while dressed to the nines. Taking to her Instagram, the always fashionable Demin & Rhinestones album artist – who finished her tour of the same name in March – revealed that fans hadn't heard the last of this era of songs yet.
Writing in a caption alongside a video of her taking to a stage in a flowing sheer blue evening gown, Carrie – who is a fan of see-through designs – said: "A new track is being added to the #DenimAndRhinestones era! #TakeMeOut will be available everywhere you listen to music tonight at midnight ET!." The country music star signed her post "TeamCU".
Carrie's light-blue dress was laced with a beautiful flower design which made her look like a true princess in her celebratory video. The look also featured a glittering diamond belt and some silver earrings which really helped elevate the ensemble to an even higher beauty.
View this post on Instagram

Fans were very enamoured with the star's appearance in the video and how it reflected her current successful career. "I feel like you just don't care anymore about the rules and blah blah blah blahs," one complimented, continuing: "You have let yourself go like a free bird in music lately and your[sic] having the most fun this era! I can't wait to hear #TakeMeOut!"
Another wrote that the 40-year-old looked like an angel, adding that she also has "a heavenly voice." Many chimed in about how "stunning" and "beautiful" the former American Idol star looked, as others expressed how excited they were to hear her new music.
Some fans had, however, been lucky enough to already hear 'Take Me Out' at a private special event for fans, with one telling other devotees of the 'Jesus, Take The Wheel' singer: "This song is AMAZING! We heard the whole thing at the fan club party and it's so so good. Can't wait for the release."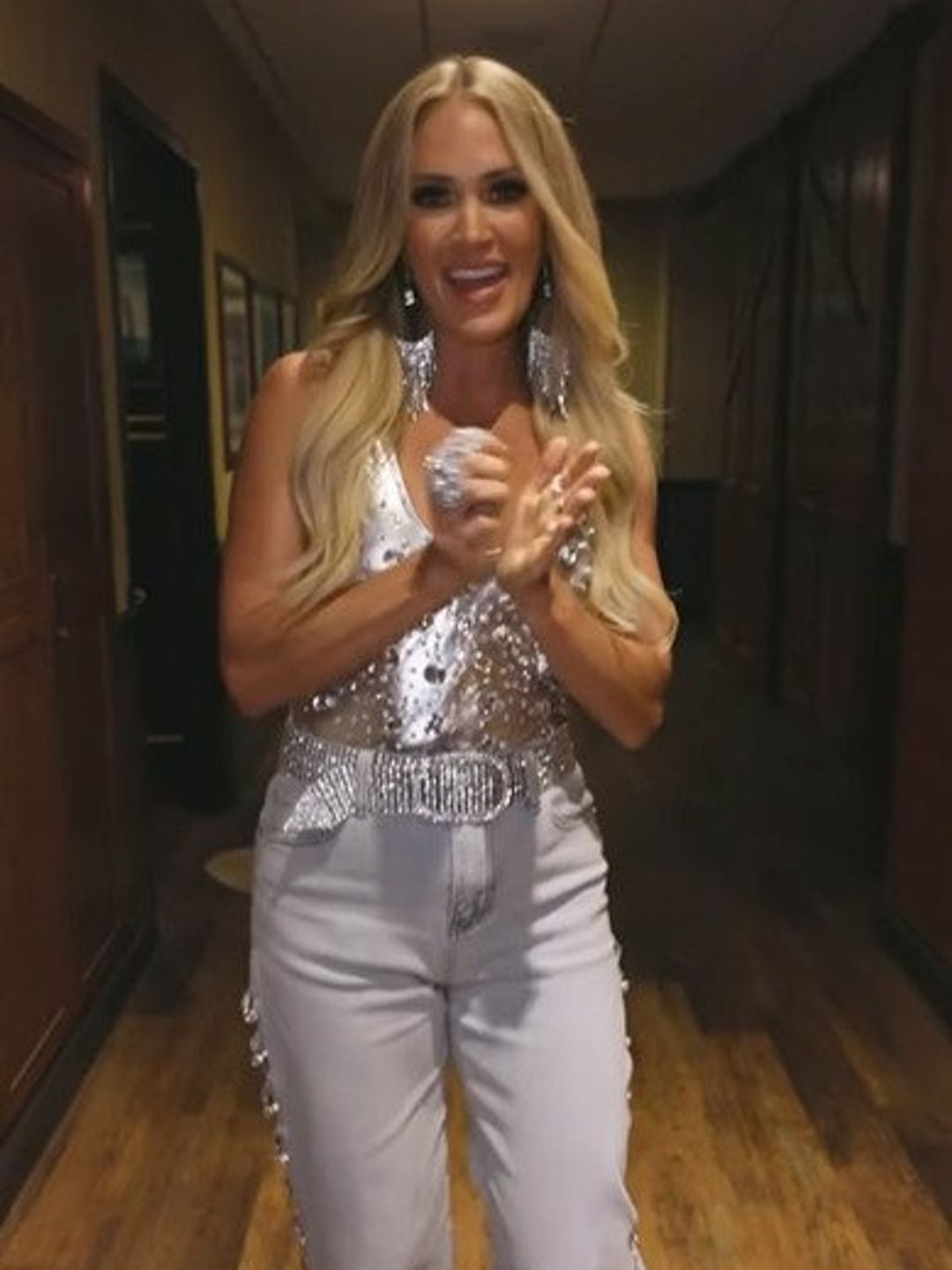 While 'Take Me Out' released on Friday June 9, the Oklahoma-born star's fan party took place earlier in the week on Tuesday. The 'Hate My Heart' singer treated her devoted fans to some music from the Grand Ole Opry stage in Nashville, TN, and for the occasion changed up her appearance yet again by wearing an embellished, metallic silver top tucked into some light-blue denim pants.
However, in true Carrie style, they weren't just any old jeans. The sides boasted slits that ran from her thighs to the floor which were held together by silver rhinestones, so fans still got a glimpse of her toned limbs. She accessorized again with another sparkling silver belt and a pair of towering platform boots, also in a silver sequin hue that added height to her petite frame.
Taking to Instagram after the event, Carrie shared a clip that showed her performing on stage in front of some of her most die-hard fans. Captioning the video, she also teased that something "exciting" is coming in just a few days. This, it turns out, must have been the release of Carrie's song 'Take Me Out' at midnight ET.