After nearly twenty years on the scene, Carrie Underwood is living out her wildest dreams.
The singer's latest tour, Denim and Rhinestones – her seventh – is well under way, and as she continues to rock stage after stage, she's looking back at her humble beginnings.
Carrie, 40, has come a long way: a small-town Oklahoma girl who won American Idol's fourth season in 2005 and now performs alongside icons such as Axl Rose. No wonder the Grammy-winning multiplatinum selling artist has branded herself "the luckiest girl in the world." You can see some of her show-stopping performances in the video below.
After performing a show-stopping concert, at Los Angeles' Crypto.com arena, Carrie got nostalgic about when she first arrived in the famed city.
She wrote on Instagram: "I'm from a small town in OK… I currently live outside of Nashville, TN… but I've got roots in LA, too."
Recalling what a momentous trip it was, she added: "I took my first plane ride when I was 21 years old out to LA during auditions for #AmericanIdol. It was pretty much my first trip ANYWHERE."
View this post on Instagram

The star also reflected on her "dream" performance with Axl of Guns N' Roses
"I was alone," she noted, however adding: "But Los Angeles was magical to me, so somehow it didn't seem as scary to this small town farm kid."
As she shared pictures of her concert, performing in a variety of glitzy outfits to thousands and thousands of fans, she then wrote: "Flash forward 19 years and here we are playing to a monstrous, incredible crowd at the @cryptocomarena and, while I'm still a small town farm girl at heart, LA still holds a part of it, too!"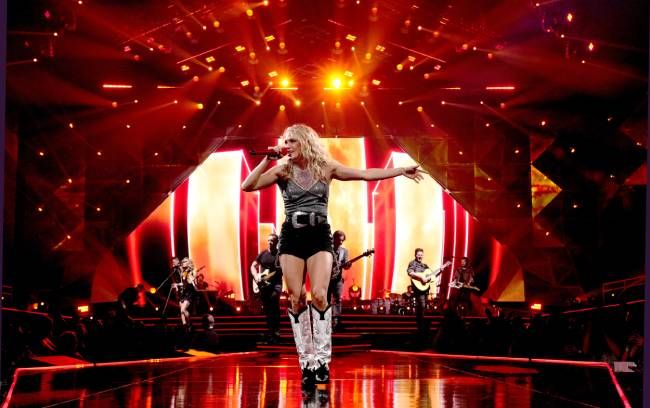 Nineteen years later, Carrie continues to reach new heights of success, and after performing with her longtime favorite, Gun N' Roses lead singer Axl, she also wrote on Instagram: "I'm the luckiest girl in the world… Thanks, Axl, for showing up, once again, to make the great times even better!"
She added: "It'll forever feel like it was all a dream, but these dreams are my favorite ones!"
Support our job
By clicking the advertisements you help us to maintain this page. We are thankful to you for reading our news and for helping grow this page.